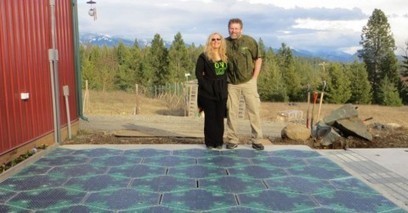 A daring plot to pave roadways with solar panels has raised over $2 milliondespite questions about the costs and effectiveness of such a network. Scott and Julie Brusaw have received more than 40,000 donations — the most ever on the crowdfunding platform Indiegogo — and they've come from all 50 states and 42 countries.

"It's very humbling that people all around the world are getting behind this," said Scott Brusaw, an electrical engineer, who launched the campaign with his wife. "We've had people call from all over the world to tell us, 'When you build the first parking lots, let us know because we'll fly there just to say we've walked on it.' It'll bring a crowd to town."
The campaign launched to little fanfare on April 21, but interest picked up as celebrities weighed in on social media, and an attention-grabbing YouTube video went viral. Since being published May 18, the seven-minute video has been viewed more than 15 million times.
Read more...