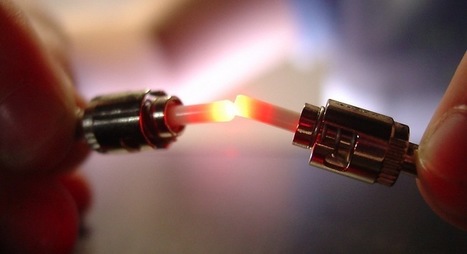 New research by a Caltech professor could speed up the Internet backbone, which routes content to ISPs.
We've heard a lot about how Netflix wants to improve download speeds for viewers by partnering with Comcast and other Internet providers. The central issue is about how to carry large video streams efficiently from one part of the Internet to another. But someday, the technology behind that infrastructure could make those pipes much, much bigger, helping to alleviate those concerns.
Researchers from the California Institute of Technology say they've come up with a new kind of laser that's capable of quadrupling the bandwidth on today's fastest fiber optic networks. These networks make up what's known as the Internet "backbone," the behind-the-scenes network that delivers content to ISPs like Verizon — who in turn make that content available to you.
What do lasers have to do with the Internet? In today's most advanced networks, which rely on fiber optic technology, data is transmitted as light rather than electrical signals. On traditional copper-wire networks, those signals don't travel as fast and tend to degrade more easily over long distances. So light offers an inherent advantage.