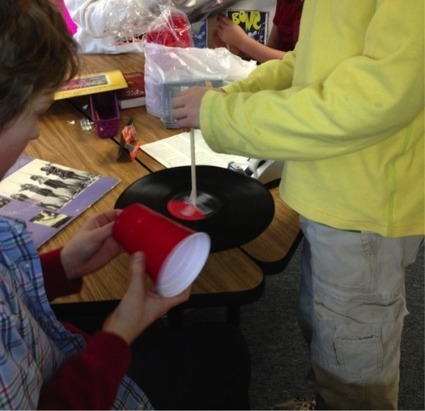 As a professional artist, deepening the ways in which seemingly disparate objects and processes are interconnected through locating, and mapping their intersections has been one of the main elements of my studio practice. The Fab Lab tools and working processes create an environment that is well suited to investigating those types of intersections.
In an effort to integrate Fab Lab tools centered on craft, and studio-based processes into the classroom, I have been working to implement a Mobile MakerCart at a project-based K-8 charter school. In addition to introducing craft-based physical computing projects to the children, a guiding principle behind the MakerCart is to give teachers the opportunity to develop familiarity with the MakerCart's tools and processes in order to be able to envision the ways in which they might be able to develop their own curriculum for use in the classroom.
The cart, housing a laser cutter, 3D printer, sign cutter, sewing machine, and various circuit building components and tools, is a flexible platform designed to circumvent the school's space issues, move the tools freely within the school, and also to fulfill one of the school's missions of moving out and interacting with the broader community.
The initial project run through the cart was a DIY Sound Studio where the children learned the basic physics of sound, and learned to craft their own sound scapes. The project started with making lo-tech record players out of needles, solo cups, and chopsticks (Figure 1), and moved to crafting their own soundscapes in Audacity and Garage Band, and playing them with Scratch/MakeyMakey based instruments through speakers they made themselves (Figure 2). These projects are designed to be iterative and carried through into other projects to deepen and enrich the children's processes of making, and the objects themselves.
- See more at: http://digitalis.nwp.org/resource/4885#sthash.dML36sUC.dpuf