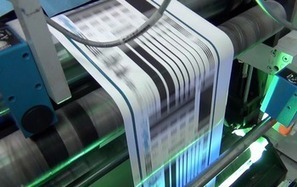 NSF's mission is to advance the progress of science, a mission accomplished by funding proposals for research and education made by scientists, engineers, and educators from across the country.
January 2, 2014
Detailed exhibit information, media contacts and images available
A modified Google Glass™ prototype that transmits personal health insights to the cloud. Ultra thin, flexible, rechargeable batteries for portable electronics. A shoe insole that givesmovement feedback for amputees.
These products and more will be on display Jan. 7-10, 2014, in Las Vegas in the Eureka Park TechZone at the 2014 International CES®, the global gathering place for all who thrive on the business of consumer technology.
CES is a smorgasbord of innovation in software and hardware for consumers, and Eureka Park will feature the latest in grass-roots technology. Since its establishment in 2012, Eureka Park has become known as the focal point for exhibits with technological breakthroughs at CES.
Global gathering for consumer technologies
This year there is even more to see: Eureka Park will expand by 30 percent to feature more than 200 exhibits.
More than 20 of those exhibits are supported by the National Science Foundation (NSF), which partners with UP Global, General Electric Company and AT&T, to showcase budding entrepreneurs and small businesses.
"Participants in Eureka Park truly embody the spirit of that legendary 'Eureka!' moment, where a fresh idea has the potential to become a game-changing product or service," says Grace Wang, director of the NSF Division of Industrial Innovation and Partnerships (IIP), which funds 21 of the companies attending. "CES gives the entrepreneurs with those ideas the opportunity to reach a global audience."
Partnerships between industry and academia
NSF's role in Eureka Park is a continuation of a three-decade legacy of support for small businesses, helping companies such as Symantec, Qualcomm and IntraLase gain a foothold while they developed their core technology.
read more