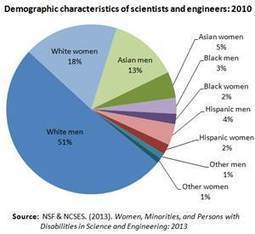 The number of jobs requiring proficiency in science, technology, engineering and math (STEM) fields is projected to grow by 17 percent between 2008 and 2018, which is almost double the growth of non-STEM occupations. 1 Computing and engineering represent a majority of these STEM jobs -- 79 percent will be in these occupations alone. i The Bureau of Labor Statistics reports that there will be almost 1.5 million job openings in computing and more than 600,000 in engineering by 2020. 2 Job opportunities in the computing field will grow by 30 percent more than the national average and the computing-related industry is among the fastest growing. ii Not only is there great opportunity within these fields, but they are also high-paying jobs -- both workers earn more than twice the average annual wage. iii
There is great concern that there will not be enough qualified workers to fill these jobs. The majority of occupations within these fields require a bachelor's degree and in 2010, only 40,000 students were awarded a bachelor's degree in computing. If this graduation rate stays the same, there will be a gap of almost one million computing jobs by 2020!3 While the numbers may not be as stark for engineering occupations, many of the engineering fields face a demographic challenge. Women and ethnic minorities are severely underrepresented in engineering jobs and much work remains to be done to increase the participation rates of these populations and to ensure equitable access to opportunities in these fields.
Despite the availability of well-paid computing and engineering jobs, very few college freshmen are interested in these fields -- only 1.5 percent intend to major in computer science and 10.3 percent intend to elect engineering. iv While there are many factors that influence what major college students choose, one of the key factors is a lack of exposure and experience during the K-12 years. Very few schools are able to offer computing and engineering courses. Although several of the more popular Advanced Placement (AP) exams are in science or math, less than 1 percent of tests taken are the computer science exam. Currently, there is no AP Engineering exam offered.
How can afterschool programs help?
While we know students need the academic background and skills necessary to be ready for college-level STEM courses, student interest is key to pursuing and persisting in further STEM opportunities. Research has found that 8th grade interest in STEM careers is a better indicator than academic achievement of whether or not a student will graduate from college with a STEM degree. v
Schools are under many constraints and pressures that might prevent them from offering courses in computing and engineering. However, out-of-school-time programs such as afterschool programs4 represent an avenue to provide learning opportunities in computing and engineering. Afterschool programs have long engaged youth in STEM and several programs actively offer computing and engineering topics. Several features of the afterschool environment help reach the populations most in need and provide supports to keep kids interested and engaged:
Afterschool programs are not bound by curriculum requirements. Schools struggle to fit computing and engineering into the core curriculum for several reasons, but afterschool programs are less pressured by these demands and can offer subjects outside of a district's set curriculum.Afterschool programs are flexible, low-stakes environments. 5 Students are able to tackle challenges and fail, without worry of being graded on this failure, reflecting the real experiences of scientists and engineers. Students are not tested on their knowledge in traditional ways, and so can take on challenging topics with less stress. Afterschool programs meet for several weeks, often throughout the course of the school year, which allows students to freely engage in project-based learning and/or follow the engineering design process through several iterations.Afterschool programs can help to address equity and access issues in STEM. Girls participate in equal numbers to boys and underrepresented minority populations participate at higher rates in afterschool programs.viAfterschool can leverage community resources and help to put a face to STEM occupations. Afterschool programs often partner with community-based organizations and STEM-rich institutions like universities and science centers that can contribute additional expertise, tools and materials. 6 Many afterschool programs bring in STEM professionals as role models and mentors who can bridge student learning to careers and help break down stereotypes about who practices STEM. It is especially important to expose underrepresented groups to STEM role models and mentors.vii viiiRead more...