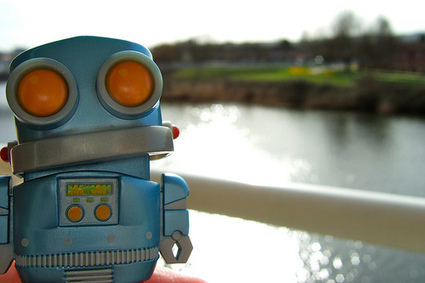 Hack Ed
As with all of the trends I'm covering in my year-end review, neither the "Learn to Code" nor the "Maker Movement" are new. I'll say it again: read Seymour Papert's Mindstorms, published in 1980.
Last year, I wrote about "Learning to Code" and "The Maker Movement" in two separate trends post. This year, I'm combining the two. This decision shouldn't be seen as an indication that interest in either has diminished. To the contrary.
There's certainly been a surge this year in the number of organizations, companies, and initiatives trying to stir up and serve that interest. An abbreviated list of those in the news this year: Mozilla (which has continued to expand its Web literacy efforts, developing standards to help conceptualize and promote a better understanding of the Web); littleBits (which I chose asone of my favorite ed-tech startups in 2011 and which raised $11 million in investment this year);Raspberry Pi (another one of my favorite startups from 2011 which was used in a number ofinteresting projects and partnerships and which recently announced it has sold 2 million units); the Imagine Cup (Microsoft's college-level programming competition, which expanded toyounger students); Starter League (formerly known as Code Academy, which partnered with the Chicago Public Schools in order to teach teachers Web development); Thinkful (a tutoring startup for those learning programming); CodeHS (which won the Innovation Challenge at NBC's Education Nation event); Robot Turtles (a board game which ran a Kickstarter campaign to raise $25K and ended up with over $600K); Goldieblox (which made a viral, then controversial, video; Codelearn (which raised $150,000); Skillshare (which offers a variety of classes, not just programming ones – offline and now online – and raised $1 million in funding);CodeNow (a non-profit that offers tech education to high school students and which expanded to the Bay Area this year); Hopscotch (a visual programming language for iPad); Treehouse(which raised $7 million in a Series B round); Hakitzu (an iOS game that teaches Javascript);Tynker (which raised $3.25 million); Bitmaker Labs (which had a nice write-up in the Globe and Mail, prompting an investigation by the Ministry of Training, Colleges, and Universities, which then led the startup to briefly shut down); Black Girls Code (which expanded its program to new cities); Lego Mindstorms (which launched its latest version and which I still need to review); Tinkercad (which was rescued from closure by getting acquired by Autodesk); play-i(learn-to-code robots created by former Google and Apple engineers); Hacker Scouts (which had to change its name because the Boy Scouts of America sent them a cease-and-desist letter); Caine's Arcade (which has encouraged a lot of cardboard-based building and will continue to do so even though Caine himself "retired"); Codecademy (which launched to a lot of learn-to-code hoopla, but was fairly quiet this year save an appearance on the Colbert Report);MOOCs galore; MakerBot (which was acquired by Stratasys and launched MakerBot Academywith "a mission to put a MakerBot Desktop 3D Printer in every school in the United States of America"); MAKE (which spun out of O'Reilly Media in January and at the White House Science Fair announced the MakerCorps, a program which helps build out a network of youth maker mentors across 19 states and 34 host sites); and of course MIT's Scratch (still among the very best ways to introduce kids to programming and which launched version 2.0 – a web-based version – in 2013).
CS in Schools
Despite the proliferation of these learn-to-code efforts, computer science is still not taught in the vast majority of K–12 schools, making home, college, after-school programs, and/or librariesplaces where students are more likely to be first exposed to the field.
Read more.