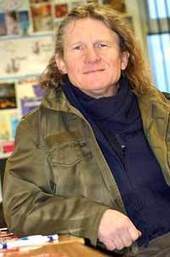 t's official. The BBC gets behind 'making and coding' for schools and families, writes Tony Parkin
BBC's Howard Baker (right) (photo Leon Cych)
The 'will they, won't they' debate over the BBC launching a major initiative to support a new generation of coders has been resolved at last. A packed crowd at the recent Edmix session at Hackney College (Thursday November 7) heard that 2015 will definitely be the Year of Making and Coding at the BBC, although there are few details available yet.
The informal confirmation came from the BBC's innovation 'guru' Howard Baker and amplified the curiously low-key announcement back in October on the BBC's own news website — "BBC plans to help get the nation coding"
Howard Baker is innovations editor at BBC Learning Research and Development and is a familiar and respected figure at education conferences and events, and always happy to tell everyone that he has the best job in the world. At Edmix he took the opportunity to prove this, sharing some of the exciting tools and projects that he and his team are involved with up there in Salford's MediaCity UK.
These included an extremely exciting web-based coding platform that has been successfully piloted in a small number of schools. But before everyone got too excited, he did point out that these 'proof of concept' pilots may well not be the finished products that are used in the BBC's 2015 initiative. But they will undoubtedly influence the thinking.