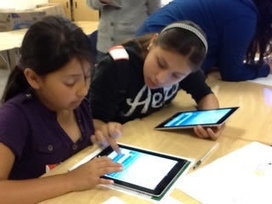 GenYES - Student Powered Technology Integration
Upper Elementary, Middle, and High School
GenYES is the only student-centered research-based solution for school-wide technology integration. Students work with teachers to design technology-infused lessons and provide tech support. GenYES students learn life-long technology and leadership skills and teachers benefit from on-site, sustainable technology integration support.
GenYES builds a campus-wide collaborative learning community!
All new tools and fully online curriculum - GenYES includes innovative online tools that support student and teacher collaboration and a student-run help desk.
If you've looked at GenYES before, it's time to look again! With new tools, online curriculum, and our new PERMANENT SITE LICENSE, there is no reason to wait or to reinvent the wheel!
See GenYES in Action at Shadow Mountain HS in AZ
In Depth
Overview - What Is GenYES?
CurriculumResearch and Evaluation StudiesWhat You Get When You Purchase GenYESStandards AlignmentThe GenYES ExperienceClassroom ProfilesSuccess StoriesSample ProjectsDid You Know?
The name of the model has changed over time.
Originally, it was known asGeneration WHY, then asGeneration www.Y, then asGeneration Y or GenY. It is now known as GenYES.
Want to Know More?
GenYES FAQs - FAQs (Frequently Asked Questions) about GenYES.
Thinking about being a GenYES Advisor? - The GenYES Advisor is the adult teacher or staff member at your school site who teaches and leads the GenYES students. Download this PDF for a short introduction to this important role.