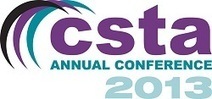 July 15-16, 2013
Quincy, Massachusetts, USA


Official 2013 CSTA Annual Conference hashtag: #CSTA13


July 15: Hands-on Workshops
July 16: Keynotes and Breakouts
Registration is now open!


The 2013 CSTA Annual Conference (formerly known as the Computer Science & Information Technology (CS&IT) Conference) provides professional development opportunities for K-12 computer science and computer applications teachers who need practical, relevant information to help them prepare their students for the future. For 2013, the conference will be held in Quincy, Massachusetts (just outside Boston).



Important Dates

Registration: Closes June 16, 2013
Housing: Closes June 10, 2013



Keynotes Just Announced!

Open source evangelist Selena Deckelmann will kick off the conference Tuesday morning, and code.org's Hadi Patrovi will send you home with lots to think about Tuesday afternoon. See the agenda below for more details.