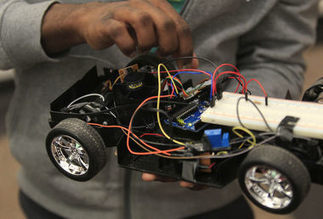 by Eunice Lee
"Forget about flying cars. How about an automobile that reads your mind?
"A group of students at Essex County College want to introduce you to the automobile of the future — or at least a prototype.
"The college's Computer Science Club yesterday publicly debuted what club president Jean Loizin describes as a car controlled by brain waves.
"In just eight weeks, the club turned the sci-fi concept of telekinesis into a project that's garnered the low-profile 17-member group some celebrity on campus.
"This is something that's part of the future. I don't think it's impossible," Karina Velastegui, 18, of Newark, said.
"In recent years both scientists and companies have been applying similar technology across the globe. In 2011, German researchers devised a car simulator program that showed how a car reacting to brain waves saved precious milliseconds compared to a driver pressing the brakes. Toyota and Japanese researchers in 2009 unveiled an electric wheelchair prototype that moved according to the driver's thoughts."
Via
Jim Lerman