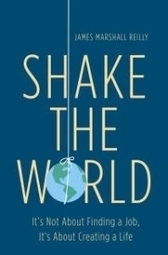 *Skip graduate school and get an "experience MBA." We are the first generation that has access to extreme self-education, which means that traditional degrees are often irrelevant and sometimes financially crippling. As a generation, it's time to rethink our trillion-dollar education debt.
*Hone a powerful network. One that can generate world changing energy. Netflix NFLX +0.92% improved its film recommendation algorithm by crowdsourcing code writing, KIVA generated hundreds of millions of dollars in microloans and re-architected the traditional system of bank lending as a route to network fundamental and massive change and we all have access to the same powerful tools they used.
*Approach traditional spaces from unique angles. Yes, thinking "outside-the-box" creates a competitive advantage. Always. Blake Mycoskie wasn't a shoemaker or a force in global health and education until he decided to be one. Join the Renaissance and reinvent the world, as you reinvent yourself.
* Keep your venture tethered to social good and positive culture. Companies today are engaging in philanthrocapitalistic ventures in record numbers, and in unique ways. Ventures that tie every day consumption to harness our collective consumer dollars to affect positive change. This not only does good, it feels good.
*Employ a multidisciplinary approach to everything as you explore markets in new and unique ways. What does micro-finance in Kenya have to do with your company culture and ultimate profit? What can a computer scientist learn from a social psychologist or an environmentalist learn from an artist? What can the world learn from you?
*Time, knowledge and participation in each other's stories are all viable forms of currency, and the most valuable currency is not necessarily "green." Nor is the most valuable solution already written, or dollar driven. KIVA taught us that those simple human stories and personal connections can be powerful vectors for change.
*Harness capitalism for good by incorporating giving into everything that you do. What you buy, what you wear, what you eat, and where and how you work, can be both a significant global force and self-defining.
* Exploit low-risk, high-reward opportunities. This mitigates risk and allows room for explosive, rapid-fire success. Today a company can be started for next to nothing and an education secured with the touch of our fingers. We all have the chance to create and exploit derivative success markets for ourselves. Right now.