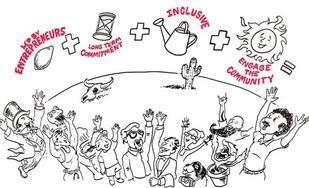 Boulder VC Brad Feld talks about the importance of entrepreneurs leading their startup communities. Which got me thinking, what happens when those startup founders inspire the feeders in their ecosystem?
Feld posits that successful startup communities, those where entrepreneurship enhances not only the economic value of a locale but also its intellectual and cultural value, have certain attributes.
They all must:
Be led by entrepreneurs in a network-like—not hierarchy-type—manner.
Take a long-term view and commit to building out the community over a generation.
Be inclusive of anyone who wants to join—those would be the feeders, made up of government officials, suppliers, students, employees, businesses, consultants, vendors, investors, etc
Hold activities and events—other than cocktail parties—that engage the startup community as a whole (think incubators/accelerators; a TechStars or Startup Weekend-type initiative)