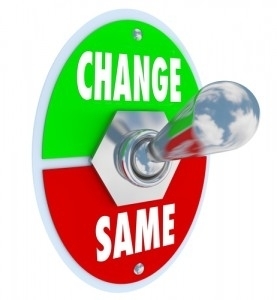 In nature, there are basically two kinds of change: evolutionary and disruptive. Evolutionary change is gentler, less destructive…but it takes a very long time. Disruptive change is fast, and sometimes necessary – but extremely destructive. Human beings are clever, though. We've figured out how to speed up evolutionary change (selective breeding programs) and how to contain disruptive change (managed forest fires).
Which brings me to the idea of changing corporate culture; you can approach changing an organization's culture evolutionarily or disruptively. I just read an HBR "management tip" about culture change (extracted from a longer article), that proposes speeded-up evolution. It's a great tip (and article); the authors suggest selecting a few key behaviors to change, rather than trying to create a completely different culture overnight: "Prioritize the behaviors that will have the greatest impact on your company's ability to implement its strategy. Choose ones that will be widely visible to others and are most likely to be emulated."
This seems like a smart approach to me. Many, perhaps most, change efforts are done according to the disruptive model ("Let's shake things up around here!") and that's why they don't work.