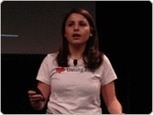 Y Combinator Demo Day took place today at the Computer History Museum in Mountain View, Calif. The room was packed with hundreds of investors, entrepreneurs and members of the press trying to find the next billion-dollar startup.
Startup darlings Airbnb and Dropbox are Y Combinator alumni, for example.
Zynga founder Mark Pincus, SV Angel's Ron Conway, CrunchFund's Michael Arrington, 500 Startups' Dave McClure, early Facebook employee Andrew McCollum, and The Winklevoss twins all attended.
67 startups gave 2.5-minute presentations. Here is the first batch of rapid-fire pitches that stood out:
BatteryOS: "You've never actually charged a battery to 100%," the founder explained to the audience. His logic: When a battery charges to near-completion, it begins to degrade. A black gunk begins to form in the battery, which eventually destroys it. BatteryOS says it's found a way to charge batteries all the way up without that residue forming. It claims that if Chevy Volt used its product, the car's battery would last eight years longer.
"We can change every lithium ion battery on this earth and improve it," the founder said. His company has already signed a deal to ship 20,000 of its batteries.
To read the full article, click on the image or title.
Get your Free Business Plan Template here: http://bit.ly/1aKy7km