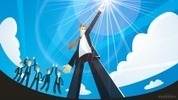 One of the main tasks of a leader, a founder of a business, a startup CEO, is to form a dream team that will be able to keep the whole startup up and running. No one can reach ambitious goals on their own.
With the biggest share of responsibilities before the future team, investors, clients and/or consumers, a leader has to have someone to rely on. These people will communicate personally and discuss business problems. They will put forth propositions and make decisions, affect the corporate culture, and build the environment themselves. If we step aside from 'be inspiring, be an example, and have passion for what you do' advice, we'll figure out a number of more practical tips you should always keep in mind.
To read the full article, click on the title or image.
Get your Free Business Plan Template here: http://bit.ly/1aKy7km