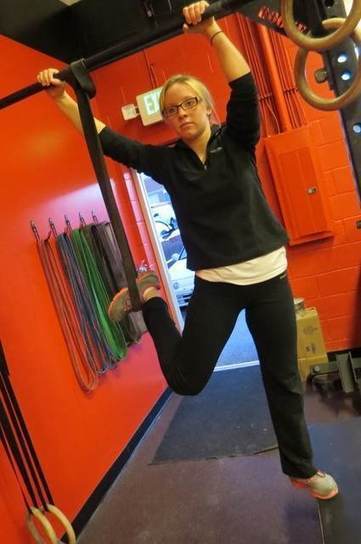 A good CrossFit coach scales their athletes individually. They do not pre-scale the workout to some generic RX/LEVEL 2/LEVEL 3 template or something like that. You need to listen to your athletes and scale them individually because they are all different people with different situations. One person might have a wrist injury while another might take 15 minutes to run a mile. Another athlete may be able to RX any weightlifting movement but need to drastically scale basic gymnastics movements like box jumps, pull-ups, or even air squats.
The phenomenon of group scaling is a bad habit that has seeped into coaching and polluted CrossFit gyms through the local CrossFit competition circuit. In a CrossFit competition it is necessary to do this because of the need for standardization of the scaling and the large number of athletes. In contrast, individual scaling must be the standard during any normal training day at a CrossFit gym in order to maximize safety and fitness.
The sole exception is in the case of monostructural movements such as running and rowing. The reason for this is that there are limited scaling options for these movements – the only ways to scale a long run/row are to either shorten the distance or give the athlete rest during the effort.
In fact, scaling is the most important part of a CrossFit coach's job. If a coach is not individually scaling their athletes, they are either 1 – Lazy, 2 – Lacking the experience and confidence to do the scaling, or 3 – Coaching a class that is too big for them to handle.
2 – ALLOW YOU TO RETURN THE A BAR TO THE RACK FROM OVERHEAD
Putting the bar into the rack from overhead is probably the most unsafe weightlifting technique that you will see new CrossFitters try to get away with. As a CrossFit coach, you know this is coming, so head it off by explaining that you need to bring the bar back to your body before returning it to the rack. For that one person who wasn't paying attention or thinks you were just kidding, stop them immediately and let them know that this is unsafe and unacceptable. Occasionally, you will see one of these during a press or a push press when the athlete is using an empty bar or a really light weight and decides to return the bar straight to the rack from overhead.
READ MORE:
Via
Myboxlive
,
Chris MacDonald