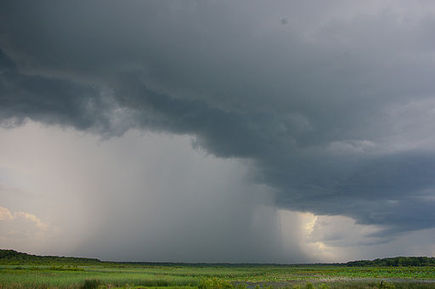 Rain – in effect, evaporated ocean – fell in such colossal quantities during the Australian floods in 2010 and 2011 that the world's sea levels actually dropped by as much as 7mm.
Rainwater normally runs swiftly off continental mountain ranges, pours down rivers, collects in aquifers and lakes and then winds across floodplains into the sea. But Australia, as any Australian will proudly claim, is different.
Rain that falls in the outback of the largest island – also the smallest continent – tends to dribble away into inland waterways and seemingly get lost, without ever making it to the coast, or to collect in shallow inland seas and stay there till it evaporates.
"It is a beautiful illustration of how complicated our climate system is", says John Fasullo, of the US National Centre for Atmospheric Research. "The smallest continent in the world can affect sea level worldwide. Its influence is so strong that it can temporarily overcome the background trend of rising sea levels that we see with climate change."
Fasullo and colleagues outline the drama of the vanishing sea levels in Geophysical Research Letters. Although there are daily, seasonal and annual variations, sea levels worldwide have been creeping up by 3mm a year on average, as a consequence of ocean warming and glacial melting.
But in 2010, sea levels mysteriously began to drop by 7mm, and stayed lower than expected for 18 months. This really was unexpected: global average temperatures had not dropped, greenhouse emissions had continued to increase, glaciers had continued to melt.
Click headline to read more--
Via
Chuck Sherwood, Senior Associate, TeleDimensions, Inc