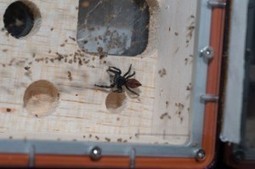 I've never experienced microgravity. But a red-backed jumping spider called Nefertiti did.
Living vicariously through Nefertiti were over 2,000 middle school students who watched the arachnid's adventures.
As true experimenters, the kids maintained control groups on Earth: their own hand-caught spiders, housed in salad-box habitats. This is the story of "spidernauts," the intrepid spider astronauts, and the young scientists-in-training that they inspired.