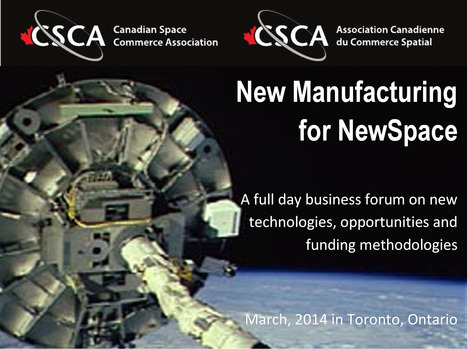 Space manufacturing, the production of manufactured goods in an environment outside a planetary atmosphere, has always been understood to have potential advantages over Earth-based industry because of its unique micro-gravity and vacuum environments, which allow for industrial processes that cannot be readily reproduced on Earth.
But now, new techniques developed using computer-aided design methodologies, solid free form fabrication (or 3D printing), selective laser sintering and other fast developing technologies promise not just to revolutionize Earth based manufacturing, but space exploration as well.
What can space companies learn from domestic manufacturers today? What are the timelines, constraints, costs and opportunities for profit in this area and what can the manufacturing industry learn from space entrepreneurs?
Find out on Thursday, March 13, 2014 at the Canadian Space Commerce Association (CSCA) National Conference, focused on the business and political issues surrounding "New Manufacturing for NewSpace."