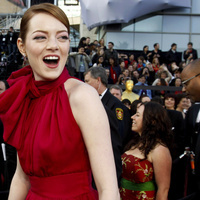 Emma Stone may be the latest celebrity to have their sex life laid bare if a RadarOnline report on a possible pre-fame sex tape is to be believed.
How far before Emma Stone made Superbad which filmed in 2006? They could have child porn on their hands.
Making a sex tape if you have any ambitions whatsoever in life to be prominent is about as stupid as embarking upon a heroin addiction.
But wait a minute, how many celebrities can you think of whose careers have been irretrievably derailed by the revelation of a sex tape? 'Cause I can't think of anyone at all.
PR has its mysterious ways.