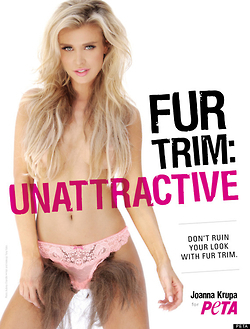 dear PETA,
This ad is really upsetting.
You're implying that pubic hair that shows/grows "outside the pantyline" (which is normal/natural for the vast majority of us gals) is "unattractive"..so goes Amand Palmer..
In PETA there are two things they care about: money and publicity. They do not care how offensive they are, how big a distraction they create from the needs of the animals they claim to fight for, or how their antagonism hurts real animal rescue and advocacy by creating bitterness, hostility and suspicion.
hey've also proven time and again they're willing to throw women under the bus to throw together some half-coherent point vaguely related to animals
What a waste