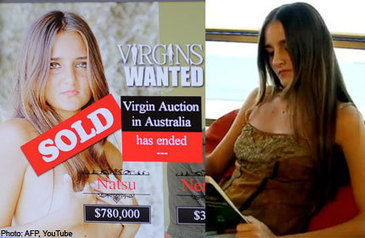 Lose a bit, Gain a big.
Catarina Migliorini will lose her hymen for US$780,000.
The 20-year-old Brazilian woman has been auctioning off her virginity online for the past few weeks and a man from Japan known as "Natsu" came out on top with the winning bid.
Our take:
- Selling body for money is called a prostitute
- Mr Natsu has a special way with women, must be effective
- This is an ad for a high priced international sex trade. Sisley is the pimp. Catarina is the ho. Nutso is the john.
- I wonder if they have to set the ground rules of sex before hand, positions, is there a limit on time , number or times to ejackulate,
- Maybe Bill Clinton would want a piece of the action. He's got the cash!