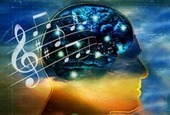 "Imagine being able to target your advertising messages based on the parameters of a listener's emotions during a particular song.
Moodagent is a service that combines digital signal processing and AI techniques to create music profiles that take into account characteristics such as mood, emotion, genre, style, instrument, vocals, orchestration, production, and beat / tempo. From these characteristics, playlists are created. Moodagent has an enormous database of music in the cloud, in which every track is scored on five attributes: Sensual, Tender, Happy, Angry, and Tempo.
Using the advertising capabilities of Mixberry Media's audio ads technology, coupled with Moodagent's knowledgebase of the emotional and musical aspects of songs, advertisers can now target their message to distinct emotional profiles.
Brands will be able to select a specific song to embody the essence of their message and, as a result, have their ads heard when the listener is enjoying other tracks with the same emotional data and characteristics – allowing advertisers to communicate the core value of their brand as they perceive it and deliver it to users when they're in a similar mood or state of mind."
Via
Olivier Lartillot