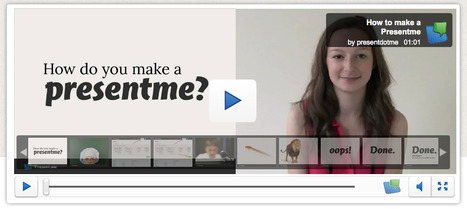 Robin Good: Present.Me is a web app which allows you to easily combine your presentation with your own talking head video, in perfect sync.
First you upload your image slides or presentation file (PowerPoint, PDF, Excel, Word, OpenOffice or Google Docs) and then you can record your video from your webcam while playing back the slides at your own preferred pace. You can also pause and restart any time.
Present.me now features a "trim" function allowing you to cut out mistakes and errors you have made and allows to create also presentations with your audio only (no video).
The final presentation can be shared online on all major social networks or embedded in any site or blog.
There is both a free plan, allowing for up to 3 presentations of 15 mins, as well as paid plans costing $9 (30 presentations of 60 mins and no ads) and $39/month (unlimited).
Review by TheNextWeb: http://thenextweb.com/apps/2012/05/05/present-me-is-slideshare-meets-youtube-for-creating-on-demand-online-presentations/ 
Demo: http://present.me/tour 
Pricing: http://present.me/plans 
More info: http://present.me/ 
First covered here: http://presentationtools.masternewmedia.org/p/651958223/record-your-own-video-in-sync-with-your-presentation-present-me on Nov.11 - 2011 (Thanks to Giuseppe Mauriello for bringing it again to my attention)
Via
Robin Good