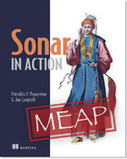 What's new?
Chapters 1, 2, and 8 have been updated. Chapter 10, "Let Sonar drive code reviews" has been added. Kindle and ePub versions are once again available for this MEAP.
The authors have updated chapters 1, 2, and 8 to address the comments from an internal review. They have also released chapter 10, which shows how to use Sonar in a code review—one of the most loved/hated, revered/maligned duties of a coding team that (almost) never gets done.

Please let us know what you think about the revised chapters and chapter 10 in the Author Online forum. We look forward to hearing from you!

What's next?
Expect chapter 11, "IDE integration."