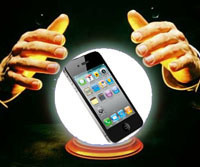 Consumers looking to use their mobile devices to improve their health — or at least maintain their well-being — have tens of thousands of choices.
But if those consumers are already healthy, the apps won't necessarily do them any good, according to a new report in The BMJ, a British medical journal.
On Tuesday afternoon, for instance, the top 10 free health and fitness apps for iPhones included MyFitnessPal, a calorie counterand diet tracker; the FitBit activity tracker; Pacer, a pedometer and blood pressure tracker; and Period Tracker Lite, a menstrual-cycle tracker, according to data compiled by App Annie, an analytics firm.
For consumers with concerns of a more medical nature, apps in the Google Play store, among others, offer all kinds of advice, self-diagnosis and treatment. One is marketed as an HIV risk calculator, another is a self-described self-test for erectile dysfunction, and a third purports to offer home remedies for cold sores, colitis, conjunctivitis and constipation.
An article published in The BMJ on Tuesday evening, however, questions whether such consumer health apps provide any real health value to already-healthy consumers – and whether the apps could even cause harm by stoking unneeded anxiety among the worried well.
Doctors don't yet have definitive answers to these questions, partly because smartphone apps are so new and partly because government health authorities regulate consumer health apps at their own discretion, depending on the possible risks to users. As a result, many health and fitness apps lack rigorous clinical evidence to demonstrate they can actually improve health outcomes.
The medical journal article, titled "Can healthy people benefit from health apps?" lays out arguments for and against the apps by juxtaposing the opposing views of two doctors.
Via
Pharma Guy