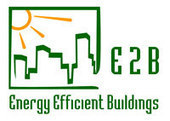 ECTP - e-news portal...
After the public consultation open from July to early October, the final version of the Energy-efficient Buildings PPP roadmap beyond 2013 is now available for final validation.
With a strong commitment from industry and a high long term impact potential, the future priorities for an energy efficient built environment have been identified, fully taking on board the hundreds of comments and inputs received. Please read carefully the document and provide us with specific and detailed comments for improvement. Let's contribute with us to make Europe and its largest industrial sector more competitive and sustainable.
This is an abstract ot the final version:
The Energy Efficient Buildings Association (E2BA) acknowledges the proposal of the European
Commission to include research and innovation activities in the Horizon 2020 proposal, in
continuation with the current PPP EeB1. Its extension over 2014-2020 will both amplify and
accelerate the collaborative research and innovation efforts implemented so far at European level,
following a value chain approach. In order to keep focus, a reduced set of priorities have been
identified considering three mains aspects, in line with E2BA vision: 1) renovation of the existing
stock; 2) demand side reduction and step towards a higher scale level of energy efficiency (i.e.
district level, fully integrating decentralised energy generation and renewable energy sources); 3) the
full exploitation of ICT as key enabler in all segments of the value chain. The top priority areas are:.......... download the document..........