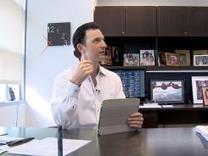 In the heyday of television, networks and advertisers craved the hottest TV shows, those capable of producing "water cooler" conversation the next morning.
My, how times have changed in the digital era. "The water cooler used to be the next day, now it's while the show is going on," says Greg Kahn, executive vice president of ad-buying firm Optimedia.
For a small but very influential segment of the TV audience, the notion of passive viewing has changed dramatically.
Now, as the networks prepare to unveil their fall lineups and make ad deals for the coming season, "social" TV viewing is a key component of what they will be touting. (NBC and Fox will be the first to present to advertisers, on May 14.)
Posting comments about TV shows on Twitter, Facebook and other social platforms grew 146% from April 2011 to April 2012, says Mark Ghuneim, CEO of Trendrr, which tracks social-media trends in television. "If you had to hire a marketing company to get 1 million people to talk about your show, I don't know what it would cost," he says. "Here it happens organically."
Rick Haskins, executive vice president of the CW network, says fans don't tweet during the commercials. "They jump when there's an OMG (oh my God) moment, when something happens on the show. That's when we see the spikes."
Kahn says he'd much rather have his ads in a show with 2 million active online followers, vs. a show with little online social interaction.
"If they're more engaged with the show, they'll be more engaged with the advertisement," he says.