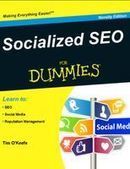 Social Search Optimization in the Real Estate World
#SocialSearchOptimization #SocialSearchOptimizationRealEstate
A few decades ago, the Internet was dubbed the Information Highway, but things have changed over the years. Although people everywhere still use the Internet to obtain information, the Internet has turned into a place where people shop, book flights, search for homes, or make reservations for a weekend getaway. More importantly, business professionals use the Internet to market their business through Internet marketing strategies called social search optimization (SSO) and search engine optimization (SEO).