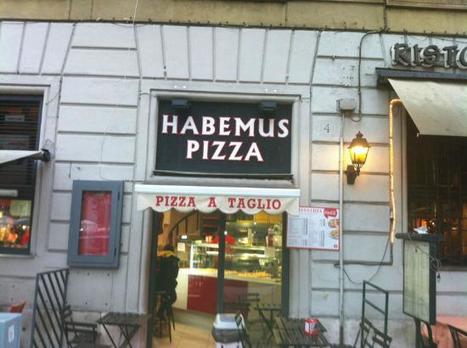 AMSTERDAM - Ook de horeca rond het Sint Pietersplein heeft zich aan het conclaaf aangepast. Pelgrims die voor de verkiezing van een nieuwe paus naar Rome zijn gekomen, kunnen zich in de vele horecagelegenheden te goed doen aan een habemuspizza of een pizza dal papa. Ook hebben sommige bars zich omgedoopt tot Habemus Bar.
Zij herinneren aan de beroemde woorden Habemus Papam (Wij hebben een paus), die vanaf het balkon van de Sint Pieter klinken als de kardinalen een nieuwe paus hebben gekozen.
De toeristensector in de Italiaanse hoofdstad ziet de toekomst zonnig in. Er worden met Pasen veel meer pelgrims en toeristen in Rome verwacht dan in andere jaren. Zij zullen op eerste paasdag kunnen horen, of de nieuwe paus vasthoudt aan de traditie dat Nederland voor de zegen Urbi et Orbi voor de bloemen op het Sint Pietersplein wordt bedankt.
Via
Good Things From Italy