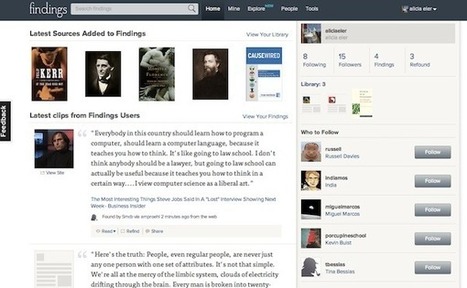 Social reading site Findings.com won't disclose its number of users or rate of growth - but after just six months of going live, the site is bustling with far more snippets - or marginalia, as co-founder John Borthwick calls it.
Much like Twitter or Tumblr, users on Findings.com can discover others who are reading similar books, and go right ahead and follow them.
As with any site that focuses on blurbs, however, there is a fear that the experience of reading is becoming less about actual comprehension and more about finding super-sharable text. Findings.com takes that problem into account.
"The vision of what we want to create with Findings.com is social reading, and we feel that it's just at the beginning of its existence," Borthwick says. "The experience of reading is changing, and the book as an object is fragmented into its component parts. It is shared and then reorganized with a different context - some of that is just about people surfing in and seeing a clip from a book, or wanting to identify themselves with it."
Check it out: https://findings.com/explore ;