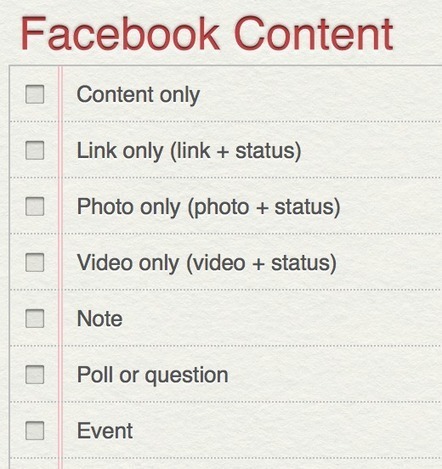 Facebook is constantly iterating so it can be tough to stay on top of trends. That's why resources like Social Fresh are essential to anyone in a social marketing role.
1. Decide which content is best -- Sometimes a photo will do and others its all about the written word.
2. Tag your content -- When you post ANYTHING on Facebook that mentions a person, place or thing with a Facebook page, tag them.
3. Schedule, when appropriate -- The lifespan of a Facebook post is near 23 hours (compared to Twitter which is less than hour). So, maximize the amount of eyeballs that will see your content.
4. Collaborate with your team -- Two virtual heads are better than one, so collaborate to produce the most engaging content possible.
5. Sometimes you have no idea what will go "viral".
6. Get your team on board to share that link -- This isn't permission to create your own personal Spamalot, but when multiple people share a link it creates a related news feed, thus increasing your chances to be seen.
7. Promote your post.
8. Remember the two things people want most.
There are really only two reasons most people "like" brand pages:
#1 They are already a fan of in real life and want to show their affiliation;
#2 To get deals and discounts.
9. Plan a realtime, live event -- One of the great ways to engage your audience is to create content that has a longer life in your stream than a standard post.
By Sarah Evans
Full article: http://socialfresh.com/facebook-tips/