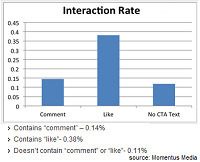 Yes, asking people to like a post on Facebook works — it results in twice as many likes and comments as not making that simple request.

Momentus Media has found that asking for a like gets a 216 percent higher interaction rate than otherwise.

The company arrived at that number by studying 49,266 status updates from the top 20,000 Facebook pages.