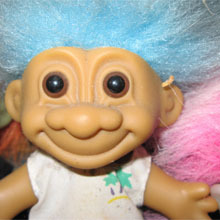 When I take blogging workshops I often get asked: Isn't it a nuisance getting comments from people? Do I have to bother replying to my blog comments? How do I deal with spam comments?
Did you know that people who leave mean comments on blogs are called trolls? It's an image that suits them.
But there's still so much misunderstanding around social media some people don't know what a blogger is, let alone a troll. Others don't know the difference between a blog post and a comment.
My local paper recently wrote an article about how someone had been slammed by bloggers.
When I went to look at the site they mentioned it wasn't the blog post which was critical, it was the commenters. They really let rip. But since none of those commenters provided a link to their blog, or even left a proper name, they weren't bloggers, just trolls...