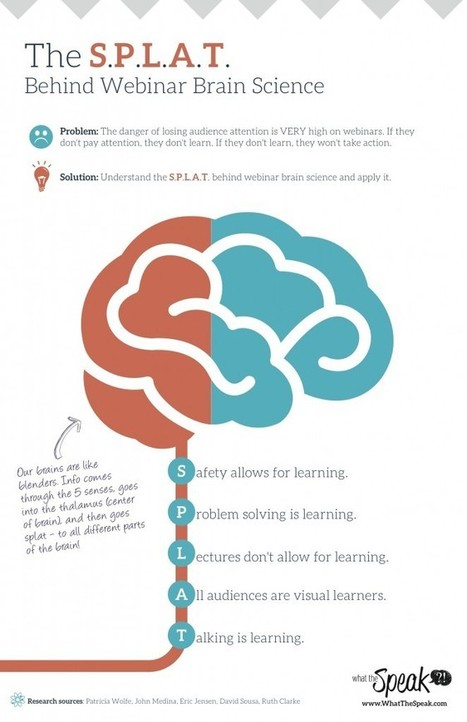 Kelly created the acronym, SPLAT, to define the five most ingredients in helping others learn.

S = Safety–creating an environment that allows for learning
P = Problem solving–helping others find solutions
L = Lectures–avoiding them and focusing on teaching instead
A = All–all audiences are visual learners
T = Talking–teaching others is one of the best ways to learn

Excerpted:
Remember this from the 5 points in the article:
4. All Audiences Are Visual

Bryan Kelly addresses the research on variety of ways students learn. …in studying the neuroscience of audiences, Kelly found the vast majority of people are still influenced significantly by what they see.
Simply talking through content with listeners is not enough.
5. Talking: a reminder that learning almost always happens best when learners talk about what they learn.
…In the school setting… A true assessment is to see if a learner has internalized a lesson enough to effectively tell someone else about it.
…we can keep learning meaningful when we SPLAT:
Provide safe learning environments.

Make content a part of finding solutions to problems.

Engage others by avoiding lectures.

Remember all of us learn though what they see in visuals.

And help others apply and "talk through" what they have learned.
As always in our ScoopIt news, click on the photo or title to see the full Scooped post.
Related tools & posts by Deb:
Are you local to SE Michigan? Find out more about horse-guided leadership development sessions (no fee demos) for individuals by contacting Deb, after reviewing

her coaching page here.
Via
Stephanie Sandifer
,
Deb Nystrom, REVELN