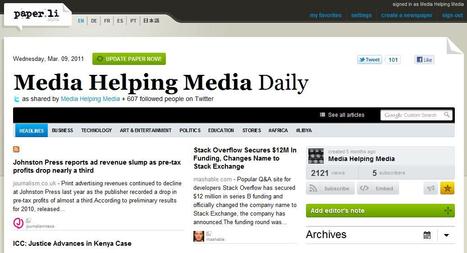 A daily newspaper built from all the articles, blog posts, videos and photos shared on Twitter or Facebook. You can make your paper out of the tweets of those you follow, a Twitter list or with a #hashtag.
You can also set it to auto-tweet every edition, but be careful, some consider this twitter spam, so I turned my auto-tweet off and, as a result, views and retweets have fallend dramaticially.
I use this a lot in training by getting all participants to tweet with a particular #hashtag and then I create a paper made up of all the tweets with that tag in.
Here is my Paper.li.
http://paper.li/helpingmedia
Please add your comments or experience of using this tool in the box below so everyone can benefit.