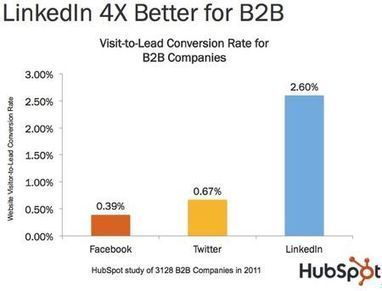 An interesting article by David Meerman Scott
I presented at the LinkedIn #B2BConnect 2012 event on April 17, 2012 in Mumbai, India. A few weeks ago as I was preparing my talk, I asked my friends at HubSpot if they had any data on the effectiveness of LinkedIn that I could share with my audience. Rebecca Corliss came through with some awesome new data which I am releasing for the first time here.
In a study of 3,128 HubSpot B2B customers, LinkedIn generated the highest visitor-to-lead conversion rate at 2.60%, four times higher than Twitter (.67%) and seven times better than Facebook (.39%).
The methodology was a data dump of all of HubSpot customers' social media traffic and leads collected through the HubSpot system in 2011. From there, data was segmented to look at B2B companies that had generated visits and leads from social media. Companies that generated less than two leads in the year were excluded from the sample.
Lead generation with LinkedIn
This data clearly shows that LinkedIn is a good lead source. But few B2B companies use LinkedIn to its full potential.