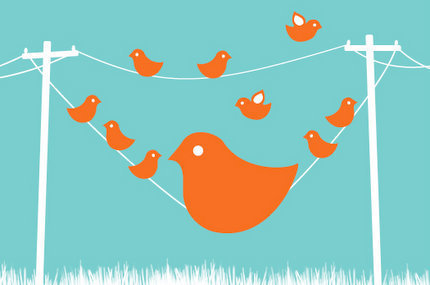 The article below by Neil Patel (click headline for the original) has some great tips to become a Twitter Power User:
CNNFortune reported 100 million Twitter users log in at least once a month. Half of those, 50 million, log in every day. About 55% check in with mobile devices, while about 40% just check in without actually tweeting.
Those numbers are huge for anyone who's marketing online. But that's not all.
Thirty-four percent of marketers who use Twitter have generated leads from its use…with 20% of those closing deals.
But how do you take advantage of this growing audience of Twitter consumers? You have to become a power user. So here are 100 proven tips to help you do just that.
And to make it easier to follow along, I've broken them up into 10 sections that each contain 10 tips.
10 Reasons why twitter power users are so influential
[Tweet this section]
At the end of this article I've listed my top ten most influential power users. But before you skip down to see who they are, let me show you why they are so influential in the first place.
In an older study released by Exact Target, Jeff Bulla pointed out:
Seventy-two percent of power users publish a blog post once a month.Seventy percent comment on other blogs.Sixty-one percent write at least one product review a month.Sixty-one percent will leave comments on news sites.Power users are six times more likely to guest post.Five times more likely to run a blog.Seven times more likely to post to Wikis.
Here are three other stats on Twitter that power users should think about:
The average Twitter user spends over 12 minutes on his or her profile.Twitter users are the most generous when it comes to giving donations compared to other social sites.Twenty-nine percent of people have tweeted about a brand on Twitter.
Moral of the story: Twitter power users are not influential simply because they tweet. They are usually content creators online. In other words, their influence spreads as they publish consistently.
10 Twitter tools that'll make you more effective and efficient
[Tweet this section]
To become the most efficient and effective Twitter power user, you have to use the right tools so you can get the most visibility.
Buffer – If you tend to do all your tweeting in bursts, you probably are losing some traffic. Use Buffer and you'll have a more balanced tweeting schedule throughout the day.TweetWally – This is a great tool to help you search for relevant tweets or hash tags, build a presentation (or "wall") of these tweets and then share them. Great for teachers or researchers, as well as a power user's blog.Tweriod – Use Tweriod to see when you tweet and when your friends tweet. Then tweet during those times to increase engagement.StrawberryJ.am – This Twitter tool in beta does one simple thing: it analyzes your entire followers' tweets, boils them down and shares with you the most shared links. You can use this information to spot trends and blog and tweet ideas.Twitsprout – This robust Twitter analytics tool is easy to use and endorsed by big media like Mashable and Fox News. It gives you the relevant competitive intelligence all in one location and even allows you to take that information anywhere. You can enroll 3 Twitter accounts or less for free.Proxlet – Here's what Robert Scoble had to say about Proxlet: "one of the best things I've found lately is @proxlet — lets you filter Tweets in Google Chrome. Get rid of Paper.li spam!" You can also block apps, mute users and filter hash tags.BackTweets – This little analytic tool, recently acquired by Twitter, allows you to track everyone who has shared your content.Tweepi – If you've got a Twitter account where you are following too many people and want to clean up the mess, then Tweepi can help you. It flushes the unfollwers, cleans up the inactives and nudges you to follow new users.Twilerts – Receive emails when you, your product, brand or business is mentioned on Twitter. Sign up, create filters and you can stay on top of your reputation management game. It's like Google Alerts for Twitter.ChittyChat – Get a room. That's ChittyChat's slogan and it offers Twitter users the chance to engage in a conversation in "private," allowing you to communicate directly with them instead of using "mentions."
Generate more retweets using these 10 tips
[Tweet this section]
A retweet is that little reward that says somebody liked what you shared. But what makes people retweet? Here are some practical ways that will get you more retweets.
Tweet something humorous - Over 84% of retweets tend to be something funny. Whether you are making fun of a celebrity or yourself or sharing a funny picture, there's a good chance it will get retweeted.Ask - I wouldn't abuse this, but if you occasionally end your tweet with "plz retweet" you are likely to get some retweets out it.Don't use the least tweeted words - Dan Zarrella explains what the 20 least retweetable words are so you can avoid them.Time your tweets – Getting more retweets happens when the most people see it. That's why you have to remember that 48% of Twitter users are in EST and that 6% of all retweets occur at 5 PM. And keep in mind that Wednesday is the best day to tweet.Share quotes – It seems that people love witty quotes and like to RT them. What's nice about quotes is that you don't have to think them up. Somebody has already done the work for you.Add links – In Dan Zarella's The Science of the Retweets he pointed out that nearly 19% of all tweets contained a link. What's interesting is that nearly 57% of retweets contained a link. People like to RT links…so tweet links.Pay for RTs – A tool like reTweet.it gives you the option to buy retweets. Pay $10 and you can get 10 RTs…$20 will get you 80…and $40 can give you 200. But Lauren Dugan argues it might not be a great idea. I also am not a big fan of it, but what do you think?Mention a high profile Twitter user in your tweet – Write a tweet in which you say something about another user and they may RT it. For example, tweet, "Hey, @neilpatel, KISSmetrics is a fantastic tool. I love it!" and I just might RT it.Use simple words – The average number of syllables in a retweet is 1.62. It seems that people prefer simple tweets to complex ones when it comes to retweeting.Use hash tags – I'll explain below the science behind hash tags, but it's enough to say right here that about a million to two million tweets include hash tags…meaning your tweets are more likely to be seen if you include a hash tag, thus causing more retweets.
10 healthy habits of Twitter power users
[Tweet this section]
You might think that power users are slogging it out on Twitter for 18 hours a day. That's simply not true. They have habits like the rest of us and they are healthy ones that you should copy.
Schedule social media time – Twitter power users don't Twitter all the time. In fact, they've created a schedule based upon their routine. Maybe you tweet in the morning, at lunch, during breaks and in the evenings. Use a timer to keep you from spending all of your time on Twitter.Use Twitter to track news – Power users have learned that they can get the best and most relevant news simply by looking at their Twitter stream. This saves them from having to watch the TV or read newspapers.Share content across platforms – You can improve your influence on tweets by sharing content across different social sites, drawing people from Facebook or Instagram to Twitter, for example.Split time with social sites – One thing about using social sites like Twitter is that you don't get to take the content. A smart Twitter power user recognizes this, and so doesn't invest all of his social capital in Twitter, but other sites as well. It's okay…Twitter won't mind.Know your audience – Avoid sharing content that your followers will not find interesting, relevant or useful…and avoid sharing content that is too popular or has been shared multiple times in other places. Show your followers that you are on the cutting edge.Tweet the same content more than once – Twitter power users also know that it's okay to submit the same post more than once since not all followers will have seen it the first time. And it's not necessary to say, "In case you missed it." Just tweet it.Use Google Reader – Or any RSS reader for that matter. Create folders for different content topics so that you can scan for relevant headlines quickly to share.Attend Tweetups – Get out from behind your desk every month and go hang out with local people during a Tweetup. Better yet, set one up yourself every month. And when you are traveling ask if anybody wants to meetup for drinks.Tweet like a madman during events – When you attend a conference, break your tweeting regular tweeting schedule and tweet like a madman. This will make you the go-to person who seems to know what's going on.Mingle without tweeting – Great power users know how to meet people face to face while resisting the urge to tweet every ten minutes. If you can't fight the urge…excuse yourself, go to the restroom and tweet. But make sure the other person isn't on Twitter, too.
10 iPad apps for Twitter users
[Tweet this section]
From my experience, Twitter power users are usually heavy-users of technology. So to no surprise they own an iPad. But which iPad apps should you use? Well, here are ten to help you decide.
Twitter for iPad – This is the first choice for obvious reasons…since it is the official app from Twitter. It has every possible Twitter feature you can think of and includes multi-layers that allow you to open profiles and URLs.Twitterlator – This app is cool because of the inline photos from your friends' tweets and a full view of chat sessions. However, the app doesn't fill the 9.7 inch display of the iPad, so it seems small…especially at $4.99.Twitepad – Twitepad is an app that uses the multi-column approach that TweetDeck uses, but the UX is a little different, as well as the tools for posting and organizing your feeds. It costs $1.99.Tweetings HD – This is a great app like TweetDeck but with one major flaw…you can't click on a link in the timeline. You have to click on the tweet, which opens in a new pane, and then you can click on the link. That's a pain…and is it worth $3.99?Osfoora HD – This app is great because it fills the entire iPad screen…and is elegant to look at and use. Along with the features you might expect, it also includes Instapaper to save content to read later. It's only $2.99.Twitterific – It's a great Twitter app for the iPad, and it provides some features its competitors don't, like clickable links and profiles in the main stream. It's free version is basic, but you can upgrade for $4.99.Flipboard – This app is perfect for consuming information, but not even close when it comes to being as robust as the other apps on this list, lacking many of the advanced features, like geo location or engaging followers in Flipboard. But the good news is, It is free.Echofon Pro – This is a great app for the iPhone and it is equally great for the iPad, providing everything that makes an app great, plus a feature that allows you to respond to multiple tweets with one reply. Whether that's worth $4.99, you'll have to decide.Twitrocker – You'll have to shell out $4.99 for this app, but it's worth it. You get all the best features plus your login is stored on Twitter OAuth rather than in the app and you get an "unread" feature on your lists. Download the free Lite version to see if you like it.TweetDeck – This free app is probably the best Twitter app across any platform—iPad, iPhone, Mac, or PC. But what makes it really stand out is it allows you to swipe between columns…speeding up access to DMs, replies, lists and search lists.
10 Ways to be more interesting on Twitter
[Tweet this section]
Nobody wants to follow a boring Twitter user. The cool thing about Twitter is you don't have to always create the interesting content…you just have to know how to share it!
Be bold – First things, first. Don't be afraid to share your thoughts, opinions, ideas and your life on Twitter. I don't recommend sharing what you ate for lunch…unless it's something bizarre. Bad morning? Share it, but with a twist that shows people something unusual.Post less – While interesting people do tend to have a lot to say…sharing every single thing on your mind or what you come across on the web will push away some followers.Flesh out your profile – Your Twitter bio is a great place to show how interesting you are. Make a list of the things you love and hate. Explain what you did in the past, what you are doing now and what you want to do in the future. Whatever it is, share it. Do not have an empty bio.Use the 1/9 tweet rule – Most people use Twitter to promote. If that's you, get in the habit of sharing 9 posts not about you or your business for every post about you or your business. This way you don't spam people.Share your opinions – I love to follow and read other people's opinions…seeing how they think and what makes them so interesting. Do the same thing and you will come across as somebody with real depth.Write a blog – Twitter is great for sharing sound bites, but sometimes there are days when you need to expand on that sound bite. For example, tweet that you are angered by Google's new privacy policy and then push your followers to the blog post you wrote about the topic.Share links – A great way to show people you have depth is to share with them what you are reading. You don't have to focus on one topic, you can share things about your hobbies, photography, dogs, iPhones and politics. The right followers will pick up on it.Ask questions – Although this is an old one, it must still be mentioned. Sharing a link alone is interesting, but sharing a link and asking a question about it gets people to actually participate in the discussion with you. Plus, people find it interesting when you ask for their opinions.Share pictures – Using either yfrog, Instagram or Twitpic, post pictures on Twitter that you take throughout the day. Post pics when you are at an event or traveling to a new country. And most importantly avoid sharing pictures that are tasteless.Share videos – I've found this to be one of the best ways to engage my followers. I guess people love to watch videos…
10 ways to maximize Twitter usage to promote your events
[Tweet this section]
If you are an event marketer, host a local conference/tweetup, or just speak at conferences, then leveraging Twitter can get you great exposure. Here's what you need to do:
Create a hash tag for the event – A hash tag is nothing more than a string of characters with a hash mark # before. Think #socialmedia or #Pubcon. If you want to learn more you can use these tools to find the best hash tags, but keep in mind that just because you create a hash tag for your event or session, it doesn't mean it will work. McDonald's learned that the hard way.Create a Twitter icon on the event web site or page - If you have a dedicated website or web page for the event or your speech, put a Twitter icon on there to encourage people to start following you.Include Twitter icons on event registration pages - Make sure your Twitter event and hash tag promotion continues through all of your interior pages, including your registration pages and the "thank you" for registering page. Include Twitter profiles for speakers of the event – Put Twitter profiles next to bios of all of your event speakers so that people can start to follow them, too. It's never too early to start promotion of your event.Include Twitter icons in promotion emails – You should include your Twitter profile and the hash tag for the event in any emails you send out. This goes for any marketing material, whether it is online or offline. Embed a Twitter feed – On your event site or speaker page embed a Twitter widget that streams all of the tweets/hash tags from the event. Then encourage people to start tweeting using the hash tag before the event starts to generate interest and excitement in the event. Create a contest to drive retweets for the event - Contests should include some sort of prize for the best tweet and most tweets. Tell event goers to tweet things they would like to improve about the event so you can try and correct it in real time. In addition, you can get creative by introducing a contest where someone explains in a tweet why they came to your event. Make sure everyone knows that they have to use the hash tag.Encourage speakers to tweet about event – This is probably a given, but encourage all of your speakers to tweet about the event. You may even consider running a contest just among the speakers for who tweets the most. Consider offering a prize to incentivize participation. Showcase tweets on blog – On the event website/blog, publish a transcript of all of the event tweets from the previous days and after the event is over. Analyze the data – If your event and hash tag promotion was a success, you should have a ton of data to sift through. Look for trends, ideas and tips on how you can make the event better in the future.
10 ways power users get more Twitter followers
[Tweet this section]
Whether you want to be a power user or not, getting more followers is probably high on your list. These ten strategies have worked for me… and will work for you.
Create a follower goal – One of the best ways to motivate you to attract more followers is to set a goal. Write down how many followers you want in a year, then break it down by month, week and day…and then get to work!Share remarkable content consistently – Power users find and share content that is useful, funny, practical, interesting and profitable for their followers. This includes links, RTs, videos, photos and podcasts. Do this consistently and your follower numbers will naturally grow.Guest post – I've had some great success picking up followers simply by writing content for other blogs. Depending on the size of the blog, you can get from 10 to 100 new followers from one post. Just make sure in your author bio you include a link to your Twitter profile.Catch and release – This tactic involves searching for a topic on Twitter that is relevant to what you do, and then following 100 people who've interacted with that topic. You can repeat this process endlessly, removing those who don't follow you back.Target follower with your bio – Write your bio with facts that describe what you do, and explain who you would like to follow you. Make sure you include a link back to your blog.Use tools – Use web tools like WeFollow to help you find followers. Directories like Listorious.com are also a good way to find new followers, too.Engage – Followers naturally gravitate to power users because they use Twitter to not only share content…but interact by replying, RTing and giving you props. This is what has made some of the power users I mention below so popular.Use hash tags – You will pick up new followers when you use hash tags since people see what you are interested in as they search through these tags since you show up in popular hash tag searches. And by the way, if you see a hash tag trend…try to jump on it!Go where people hangout – What I mean by this is you need to attend conferences, events, seminars and local tweetups. You'll meet people at these events and if you bond, you've likely got a new follower who may eventually recommend you to his or her audience.Promote your Twitter account – Power users recognize that they can promote their account by attaching it to email signatures, embedding an icon on their website and even putting it on business cards. Twitter is universal enough that people will understand what it is.
10 Twitter metric tools for power users
[Tweet this section]
Being a Twitter power user means you care about what you tweet and about how influential each tweet is…and how influential you are. There is no point in being a power user unless you want to be the best, right? That's means measuring your success. Here are ten tools to do that with:
Twitter Counter – Tracking over 10 million users, Twitter Counter is a pretty standard Twitter analytic tool, giving you a snapshot of follower predictions and daily stats. And starting at $75/month, you can attract high-quality followers through their follower program.Tweetstats – If you want to break your tweets down by hour, TweetStats is your tool. You can also see tweets per month and your reply statistics. Free tool.Tweetreach For marketing and PR professionals who love to see how far their message is reaching, TweetReach will deliver. It's simple to use and plans start at $84/month.Twitalyzer – This is some serious Twitter search analytics. From automatic daily updates to Custom Data Range reporting to Competitive Account Tracking, you will up your social game with this tool. You can start with a free trial.Trendistic – Whether you are looking for things to blog or tweet about, this search tool will help you find out what is trending on Twitter.Twitter Grader – This ego-pulling tool will show you how influential you are on Twitter by "grading" your profile, tweets, followers, RTs and replies. Good way to measure improvements in a complete social media campaign.Klout – Klout is another social media tool that measures your influence…this time it does it over all of your social media networks, Twitter included.Simply Measured – Are you an Excel junkie like me? With Simply Measured you can take your social data and create beautiful reports in Excel.Sprout Social – Sprout Social is a one-stop shop for all your social media tracking needs, including Twitter. Extensive reporting capabilities that allow you to isolate single site performance.
10 Twitter power users I admire
[Tweet this section]
This post wouldn't be complete without a top 10 list of power users you should follow, watch, study and engage (because they will engage back with you). These are the pioneers and leaders in the space who've taught me everything I've known. I'm very grateful for their hard work.
Robert Scoble @scobleizer – Easily one of the most recognized names on Twitter, Scoble tweets about technology and brags about his interviews with over 3,200 geeks.Jeremiah Owyang @jowyang – Top social media industry analyst at Altimeter Group, Jeremiah is a very active Twitter user who shares a ton of information about social media.Kevin Rose @kevinrose – The founder of Digg posts about his newest ideas and projects, as well as sharing Instagram photos and testing out new web tools.Pete Cashmore @mashable – Like he needs an introduction, but Pete is the founder of Mashable who doesn't hide behind his account—he gets in the middle of the action!Guy Kawaski @GuyKawaski – Author of many popular books and former chief evangelist for Apple. Guy shares a lot of content about everything. Great source.iJustine @ijustine – She claims to be a video game lover who makes a lot of YouTube videos, but iJustine also has her hands in all things technology…with a Twitter tech list you need to check out.Daniel Brusilovsky @danielbru – He's only seventeen, but he's got passion for all things technology, founding Teens in Tech Network. I love his passion.Chris Brogan @chrisbrogan – He's probably one of the more popular social media experts and speakers out there. From Twitter to Google Plus… he shares insights on social media daily.Dave Morin @davemorin – Dave is not only a great photographer, but the founder and CEO of Path. His replies and RTs easily outpace his own tweets, showing he's very engaged. A must follow.Fred Wilson @fredwilson – A great venture capitalist, blogger and Twitter power user. Even though he has over 200,000, Fred still engages actively with his followers.
And of course I can't put everyone on this list…so who would you put on this list?
Conclusion
Twitter is really a great way to connect online, build relationships and close deals. And just because this post is huge, it doesn't mean it's difficult or complicated to leverage Twitter.
My advice to you is to start at the top and slowly work your way down this list. It takes time to become a Twitter power user. But you will eventually start to see your influence on Twitter grow. The cool thing is that your influence will grow across the web as well.