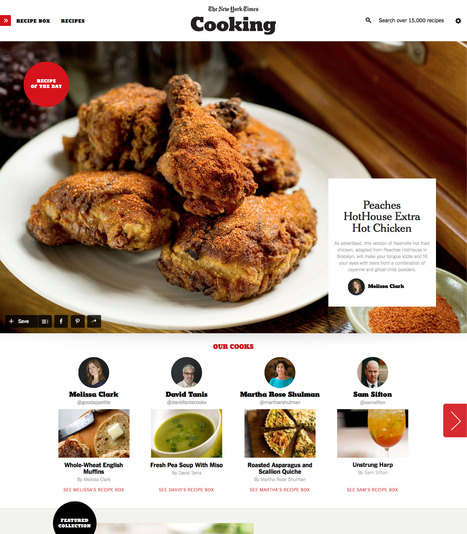 From "about us" of Official Website:
"Yesterday (May 13, 2014), The Times launched a closed beta of a new product, NYT Cooking.
NYT Cooking is an intuitive and dynamic recipe box designed to make cooking easier. The site features more than 15.000 recipes from The Times archive to browse and search. Users can save their favorite recipes to a digital recipe box, get inspired with hand-picked collections of recipes from Times cooks, create custom recipe collections of their own and learn how to make recipes with instructional videos featuring Melissa Clark, Sam Sifton and Mark Bittman, among others.
The limited web beta will be available to approximately 10.000 NYTimes.com users. The Times will use the beta to develop insights on how users interact with the product, and to learn from those insights as it approaches the launch of the full product later this year..."
Now I am surfing into site, and there are some key sections:
- RECIPE BOX
Anywhere you see a recipe, you can drag it into this drawer and access your saved recipes here at any time.
You can also group recipes together to create menus or plan a meal by creating a collection. Use the button below to get started.
- RECIPES
More than 16.000 recipes now: there is a box search or you can use related filters as Barbecue, Dairy-Free, Dinner, Japanese, Middle Eastern, Soup.
Other different filters with key related words are: diets, cuisines, preparation methods, meal types, and more.
- TIMES COOKS
They are your guides to NYT Cooking. Use your recipe boxes as inspiration for recipes and the start of your own collections.
Already have an NYTimes.com account as me? Login and try it:
http://cooking.nytimes.com
Or request an invitation.
"About Us" of NYT Cooking:
http://www.nytco.com/nyt-cooking-beta-product-testing-begins/
One of first review articles is by Nieman Journalism Lab:
http://www.niemanlab.org/2014/05/the-new-york-times-has-a-lovely-new-cooking-site/
BTW: the website is beautiful!