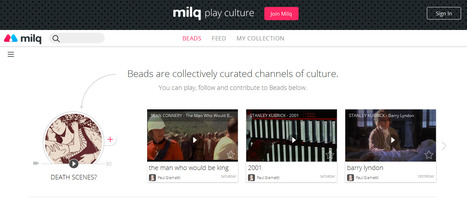 Excerpt from the review article by The New York Times:
"Social media users know the frustration: a deluge of videos, images and music clips flows through their news feeds all the time, some of it precious but mostly not.
The people behind Milq, a new website and app, say they have one solution: change the network.
Milq lets users organize songs, video clips and other bits of media around common themes, resulting in something like collaborative mixtapes.
By trying to tame the web's chaos through communities of taste, Milq is entering a crowded field of websites and apps that are betting on the power of human "curation".
Perhaps Milq's closest competitor is Pinterest, but Milq sees that personal process and raises it with group curation.
To do this, Milq has come up with something like a new atomic particle of online media: the bead. Milq is set up as a permanent collection of topic pages, or beads, each containing media clips posted by users.
Milq is free to use, on the web or on iPhones. (An Android app is being developed, the founders said.) But the involvement of corporate sponsors and media outlets is crucial to its expansion.
Condé Nast is an early media partner, and has been exploring ways to incorporate beads on its magazines' sites..."
Read full original review by The New York Times:
http://www.nytimes.com/2014/04/28/business/media/milq-aims-to-separate-wheat-from-social-media-chaff.html
Check out Milq: http://milq.com
More info: http://milq.com/about