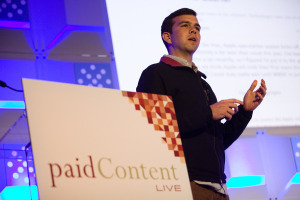 This is an useful article by paidContent.org on GigaOM, and it is interesting for this my curated topic about Content Curation.
Here is an excerpt from it:
"From PaidContent Live 2013, we brought you five different entrepreneurs who talked about ways in which they are changing up business models for media and the ways in which people consume content.
A few themes came out of our presentations from:
- Paul Berry, founder and CEO of RebelMouse,
- Jeff Fluhr, co-founder and CEO of Spreecast,
- Matt Galligan, co-founder and CEO of Circa,
- Aria Haghighi, co-Founder and CTO of Prismatic,
- Josh Miller, co-founder of Branch.
Here were the ones we found most compelling:
1) The future of news will come from other people.
This isn't to say that the majority of the world will eventually get all of their news from Twitter and Facebook, but it is fair to say that we'll increasingly rely on recommendations and smarter social cues from friends and respected strangers as we sort through the vast amount of information available online.
2) We'll be reading all the news that fits — on mobile.
Circa, the startup that's re-thinking how to structure news stories based on the attention spans and needs of mobile readers.
3) It's all about the individual person and the brand they build. Obviously individuals have always had a hand in shaping the news since the days of newspaper editors picking the stories that end up on the front page. But since the early days of blogging we've seen the rise of the personal brand grow in importance (excellent curators are for example Maria Popova and Andrew Sullivan).
4) People want to talk about the news but they're looking for smart conversations.
Several interesting tools have launched recently that allow for more dynamic conversations online about the news, and we're seeing those conversations happen both in text and multimedia.
5) Traditional advertising can't support the future, but no one's clear what the alternative looks like..."
Read full original article here:
http://paidcontent.org/2013/04/17/5-startups-changing-the-way-the-news-business-delivers-content/