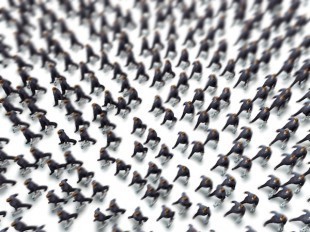 Excerpted from article by Ken Doctor and published on Nieman Journalism Lab:
"In the endless world of digital content, there must be a big business in gathering together some of the world's best, creating a marketplace, and selling stream upon stream.
Producers of content want to see the content they produced used and reused, over and over again, helping offset the high cost of news creation.
So let's look at the newsonomics of Syndication 3.0:
- NewsCred:
This is syndication meets marketing services: As news companies both produce content and try to act as regional ad agencies, the synergies between the two are becoming more evident.
Timing is everything: We've seen a maturation in curation technologies, as metatagging gets easier and cheaper, allowing niched feeds.
- NewsLook:
It positions itself as a technology and curation company, adding value to a mass of content.
Think niche. Think video. Both have audiences that may be paying ones; video ad rates are still holding up far better than text.
- Upworthy:
Founder Eli Pariser defines its would-be audience: "At best, things online are usually either awesome or meaningful, but everything on Upworthy.com has a little of both. Sensational and substantial. Entertaining and enlightening. Shocking and significant. That's what you can expect here: No empty calories. No pageview-juking slideshows. No right-column sleaze. Just a steady stream of the most irresistibly shareable stuff you can click on without feeling bad about yourself afterwards."
Other startups are mentioned in this article:
- California Watch;
- The AllMedia Platform;
- Deseret News Service;
- Ok.com;
Each startup has a detailed introduction about itself. Read full, long and interesting article here:
http://www.niemanlab.org/2012/08/the-newsonomics-of-syndication-3-0-from-newscred-and-newslook-to-ok-com-and-upworthy/