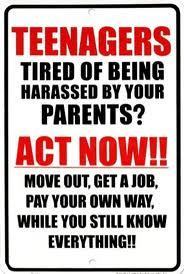 Teenagers: they know everything…EVERYTHING! How did they get to be so smart, and their parents so stupid, in such a short period of time?
You and your organization are SMEs in your market. You have a perspective that no one else has, and an insight that your audience needs to hear so that their eyes are opened to a new way of viewing things.
But that's not what they want.
Their perspective can't be force-fed: it needs to be nurtured, to be brought along in a smooth and seamless fashion. It's a full view that's important so that your POV can be presented within context. It's all relative. But how can you deliver your insight within context, comparable to the voluminous knowledge out there?
I've have a few posts today on content curation, and it's a tactic you need to seriously consider as a part of your content marketing mix as it (1) provides a pipeline of content that supplements your efforts, and (2) provides a library service to your audience and delivering all relevant knowledge in your marketspace. You're giving your audience a full view, and providing them with context, so that your written/spoken word can resonate and stand out.
We know individually we don't know everything, and your audience doesn't, so does it not make sense to collect and distribute all this relevant information to your readership? It's a service that's valued by your audience and provides the knowledge so that perspective can be nurtured over time. Clarity through curation.
On the other hand, we'd be so damn confused if all teenagers had perspective.
Marketing technology…NOW!
Today's curated article summarized for your quick review:
-- > CEOs look toward disruptive technology more than CMOs - Chief Marketing Technologist http://sco.lt/8wmDbt
-- > Marketing technology: So many tools, so little time (and money) - FierceCIO http://sco.lt/5oYBrF
-- > 6 Major Google Changes Reveal the Future of SEO - Search Engine Watch http://sco.lt/7KrPpB
-- > Marketing Automation Has Plenty of Room for Growth - Marketing Pilgrim http://sco.lt/7TnmQD
-- > Who Else Wants to Know What Marketing Automation Software Costs? - Capterra http://sco.lt/5k0bmD
-- > How To Measure Your Personal Branding Success On LinkedIn - MarketingThink http://sco.lt/7H1pZJ
-- > Marketo to debut automated email marketing platform | B2B Online http://sco.lt/931OTJ
-- > Marketing to Aggressive Technology Buyers - Gartner http://sco.lt/5BDvCD
-- > Will You Really Need a Higher SEO Budget in 2014? | WordStream http://sco.lt/8mtph3
-- > Seven Advanced Writing Techniques to Make Your Blog a Smashing Success [Visual Sketchnotes] - Profs | #TheMarketingA... http://sco.lt/9KFhTd
-- > Why content curation is a new form of communication - Scoop.it http://sco.lt/6QMPnF
-- > How Marketing Automation Helps Sales Performance [INFOGRAPHIC] - Pardot http://sco.lt/5BNXuL
-- > Marketing Automation Crash Course - Content Jam http://sco.lt/4qVChV
-- > 10 Things Every Sales Manager Should Know About Sales Performance [Infographic] - Profs http://sco.lt/8JXAsT
-- > Infographic: Findability - 21 New Rules of Content Marketing - Marketing Technology Blog http://sco.lt/6SrEKP
See ALL Top Curated Marketing Technology Articles here.
___________________________________
-Receive a FREE daily summary of The Marketing Technology Alert directly to your inbox. To subscribe, please go to http://ineomarketing.com/About_The_MAR_Sub.html (your privacy is protected).
-If you like this post or any of the scoops from The Marketing Technology Alert (brought to you by iNeoMarketing), PLEASE share by using the links below.
Via
marketingIO