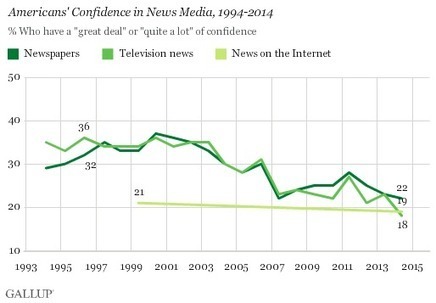 ... Gallup's Poll shows that people trust newspapers the most, followed by the Internet, with television news bringing up the rear. However, the American Press Institute notes that this order is reversed in terms of how Americans actually consume the news.
Television, which reportedly has the lowest public confidence, is the most frequently used medium for getting the news, with laptops/computers ranking second and newspapers coming in last.
While trust in the Internet as a source is slightly lower than when Gallup first measured public confidence in 1999, this year marks the first time that another news medium (television, in this case) has fallen below the Internet in public trust.Meanwhile, in terms of news consumption, the Internet has made steady gains over the past decade. Pew Research notes that the more Americans these days get news in a digital format.
Working with media is a key part of our job, so how do the public's changing news consumption habits and wavering confidence impact how we approach media relations?...
Via
Jeff Domansky