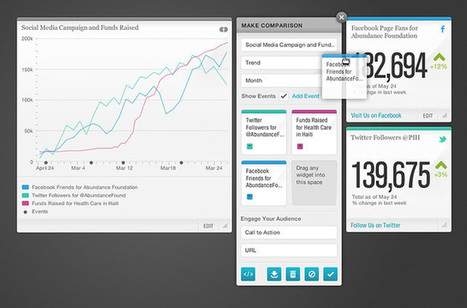 This app sounds too good to be true
Sparkwise is a new data visualization and outreach platform that aims to help nonprofits, independent media organizations, and individual activists communicate their initiatives and accomplishments with visual clarity, statistical tangibility, and aesthetic verve.
Conceived and designed by the San Francsico firm Tomorrow Partners to be the go-to platform for advocacy groups, Sparkwise is open source and free. It consists of a customizable, sharply designed interface that allows an organization--or individual--to present a rundown of essential statistics, information, news, and stories relating to the organization's mission, in the form of data visualizations, photos, videos, newsfeeds, tweets, etc. Each piece of data or multimedia element is featured in a widget, which can include everything from the amount of funds raised for a particular campaign to photo slide shows and graphs indicating, say, the rise in access to potable water. Design and the effective use of information are key to the presentation, with the data visualizations crafted to be elegant, colorful, and clear. The dashboard is easily set up by choosing from a wide range of existing widgets, and organizations will be able to create new ones, with the data brought in from Google spreadsheets and JSON or XML feeds. The dashboard instantly shows the vital stats and stories.
Tomorrow Partners, founded and directed by Gaby Brink, designed the platform over the course of a year, first testing it with groups funded by the Bill & Melinda Gates Foundation, one of the project's underwriters. Brink gave us the top 10 goals she and her team sought to address with the new platform.