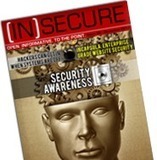 Kaspersky Lab released its annual Kaspersky Security Bulletin, which provides the overall malware and cyber-threat statistics for 2012.
===> The report revealed significant growth of Mac-specific malware and an explosive growth in the number of threats targeting the Android platform. <===
Overall, Kaspersky Lab detected and blocked more than 1.5 billion web-based attacks in 2012 and more than 3 billion infected files.
At the present time Kaspersky Lab detects and blocks more than 200,000 new malicious programs every day, a significant increase from the first half of 2012, when 125,000 malicious programs were detected and blocked each day on average.
===> Servers located in the United States were the most frequently used to host and deliver malicious objects (25.5% of all incidents). Russia occupies the second place with 19.6% followed by the Netherlands, Germany and the United Kingdom. <===
This is a significant change compared to years past: in 2010 the majority of malware was hosted in China. Changes in domain registration policies and other regulations taken by Chinese authorities resulted in the rapid decline of malicious hosts originating from the country.
Read more, a MUST:
http://www.net-security.org/malware_news.php?id=2352
Via
Gust MEES