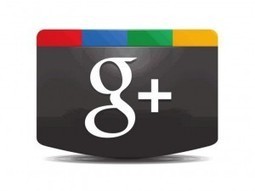 "Google+ was enabled for K-12 domains in the fall, and I am now thinking about how Google+ could fit into our district for both students and staff, especially in light of Skype's recent offer for group video chat for teachers.
There is something in me (maybe it's my English teacher background) that prefers the flexibility to share ideas in more than 140 characters. I've obviously gotten around it as a Twitter user, but I find myself frustrated by that limitation more often than I feel freed by it.
I wish I was better about blogging regularly, but it's challenging to carve out time. Google+ seems to be a great middle ground for me. I can share more than 140 characters, interact in threaded conversations, and only share with certain groups (which I really like). And for whatever reason, I find Google+ streams more enjoyable to peruse than Twitter feeds. But, beyond that, how can this be used in our K-12 environment?
Enter Hangouts. I made it a personal goal to test out Hangouts during 2nd semester, and I managed to squeeze in 4 in the last two weeks, all with positive results. If there's anything that will push me more into the Google+ arena, it's Google Hangouts. So far, Hangouts could prove useful in the following situations:"
Via
John Evans