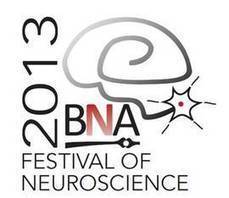 The British Neuroscience Association's biennial meeting in 2013 will be a unique event. Eighteen learned societies with a neuroscience interest - both clinical and non-clinical - have contributed one or more symposia to the programme, creating a meeting with 56 scientific sessions and 8 plenary lectures involving more than 240 speakers, over 80 from outside the U.K.

The hottest topics in neuroscience research will be covered, and we expect over 1000 poster presentations representing all aspects of the subject.

As the venue for the BNA2013 meeting is the Barbican Centre - one of London's leading entertainment venues - a major public engagement programme will form part of the Festival of Neuroscience - enabling members of the public to interact with scientists, carers, charities, funders, policy-makers...and some well-known celebrities with experience of mental health issues...to learn more about the brain and the importance of a multi-disciplinary approach to research.