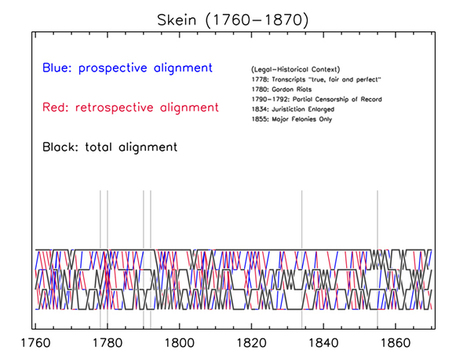 If you were to wander the halls of a courthouse during a murder trail, could you predict the verdict from the conversations you would overhear? And what would be the smallest amount of information you would require to make that prediction?
Discovering patterns in information is more than a game of courtroom prescience; it is a serious matter with applications in warfare, stock markets, human health, and other complex systems.
Finding a reliable technique for detecting such patterns, however, is difficult. SFI Research Fellow Simon DeDeo, SFI Graduate Fellow Sara Klingenstein, and undergraduate researcher Robert Hawkins are drawing on information theory and a couple of remarkable data sets for help.
In one example, the researchers analyzed some 250 years of transcripts from the Old Bailey criminal court in England to look for patterns in trials that led to guilty verdicts.