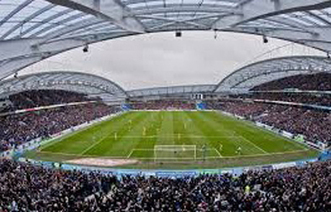 A trial of the digitalStadium app, which connects football fans' phones to create a network without the need for infrastructure WiFi, took place last night (May 13th), at Brighton & Hove Albion's final home game of the season.
Many football clubs want to develop better contact with fans during matches using digital technology, but the cost of equipping a stadium with the necessary WiFi infrastructure can be prohibitive (around £400,000).
The steel and concrete structures so typical of modern stadium design also make it difficult for smartphone users to get a signal. Anyone who's tried to email or make a call on a smartphone when at a festival or match will know how difficult it is to get connected when there are thousands of other phones in use all around.
What makes the digitalStadium app unique, however, is the software solution that supports the app. Designed by Dr Ian Wakeman and Dr Dan Chalmers and their team at the University of Sussex in collaboration with Brighton and Hove Albion FC and Corridor Design, Digital Stadium software enables smart phones to act as mobile computers and build networks with other phones in the crowd.